On 25 June, 2015 Falk Böttcher from the Deutscher Wetterdienst (DWD, "German Meteorological Service") visited IAPN. He described changes in the past and projected hydrological data and discussed their consequences for agriculture with participants at the event. In his presentation he covered extensive exploration recent and long-term data on precipitation, soil moisture and evaporation.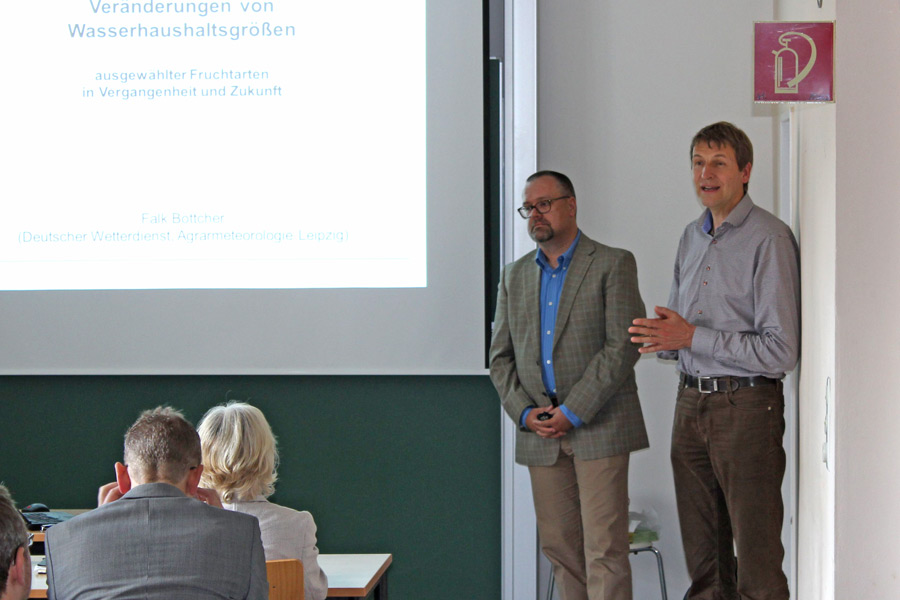 Prof. Dr. Klaus Dittert introduces Falk Böttcher, agrometeorological specialist at the German Meteorological Service, as he begins his presentation. (Photo: IAPN)
"We are the exotic creatures within the Deutscher Wetterdienst", began Falk Böttcher, describing himself and his department. He is one of ca. 60 employees who make up the agrometeorological department at the DWD, based in offices at four locations in Germany. PhD students of IAPN already started cooperating with Falk Böttcher and his colleagues at one of the DWD field sites close to Leipzig. This is no great surprise, for water usage efficiency of crops is one of the main areas of IAPN research.
Dry like never before
Falk Böttcher began by looking at the current situation regarding soil moisture levels in Germany: "We have a new absolute minimum, as a result of readings falling below the lowest moisture readings ever recorded. Approximately 45% of German territory is experiencing previously unseen drought conditions. This is because this year's long-term precipitation levels are down by a third."
The changes in annual precipitation levels vary substantially by region. "Across Europe, the differences are getting bigger and bigger. Looking at Germany one might say that the east is in the 'rain shadow of the Wall', given the increasing aridity there", said Mr. Böttcher with a grin – making a lighthearted reference to the former border between east and west. But alongside the geographical variation in precipitation levels, increasingly there are substantial longitudinal differences, measured at fixed sites year on year.
Changes observed in previous years
Total precipitation in Germany since 1981 has seen a minimal and insignificant reduction. Nevertheless, since 1982 winters have become markedly wetter with an increase of 26%. A matching decrease has been seen in spring precipitation levels. The extent to which phenomena like torrential rain, hail or 10-day precipitation-free periods have increased is not yet clear. This is partly due to a lack of comparative data. "Up until 1990, only daily precipitation levels were collected. But to investigate extreme rain events, hourly precipitation data are essential; their collection started in 1990", Böttcher explained.
Focusing on the Göttingen region, there are observations showing that there are significant increases in pre-summer aridity, which is leading to a significant reduction in soil moisture levels. This is because the measured evaporation from the crops examined (winter wheat and sugar beet) has hardly changed. This development is also expected to continue in the future, but the climate model does not show significant changes until the middle of the century.
What farmers should be preparing for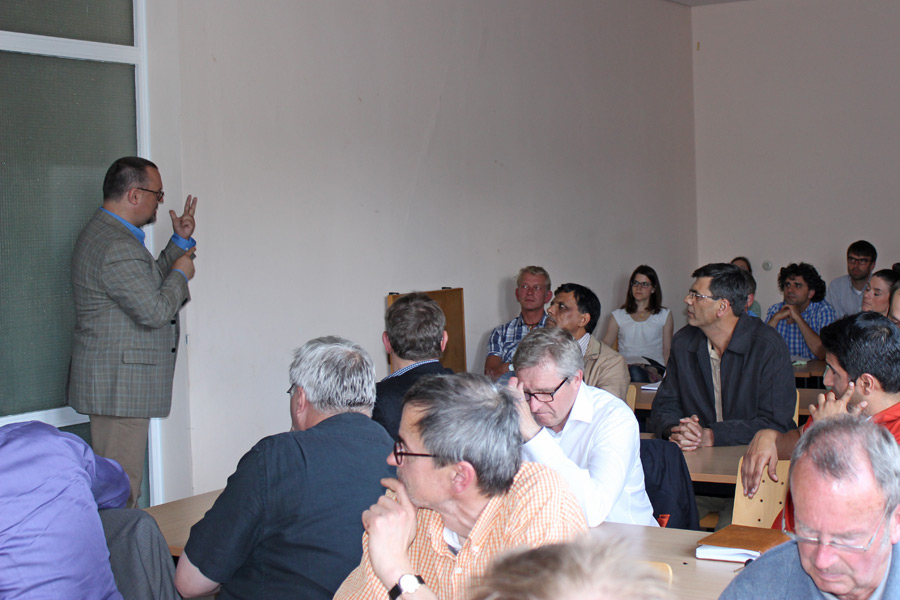 The consequences of the observed climate changes for agriculture were intensively discussed. (Photo: IAPN)
"Keep calm and carry on" is Böttcher's answer to the question of what farmers in the Göttingen region should be preparing for. "It's too early to already be thinking about radical measures like installing irrigation equipment – that can be left to the next generation." However, farmers do need to be gearing up for more volatile precipitation patterns. He also said it was worth considering planting intercrops and a careful spreading of risk across the types of crops planted, or across different varieties of each crop.