On 2 August 2015 the IAPN team, together with colleagues from Göttingen University's Department of Crop Sciences visited the K+S Adventure Mines at Merkers, Thuringia, to get an up-close look at underground potassium extraction. They had been invited by K+S KALI GmbH and had an exciting journey down to a depth of 800 meters.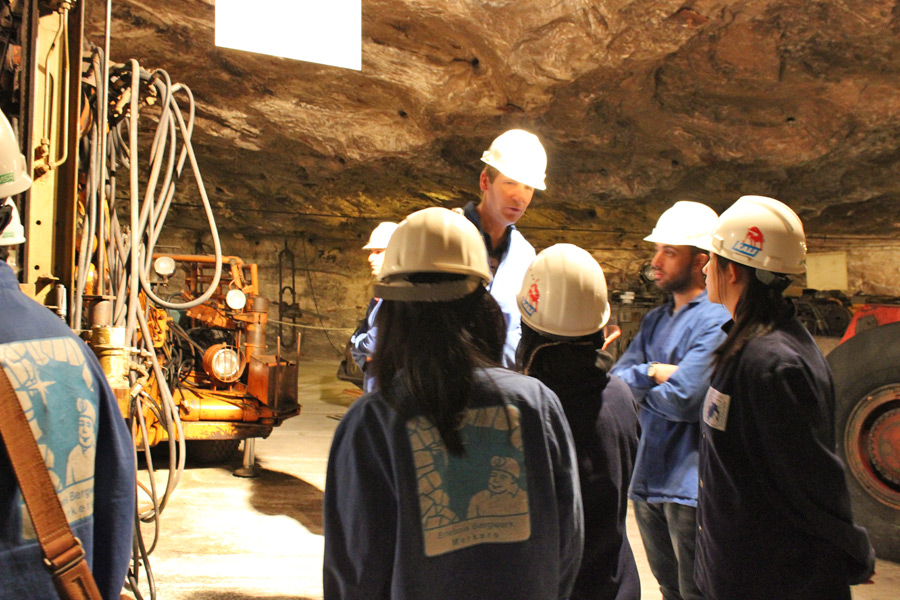 Fascinated by the work that goes on underground: Prof. Klaus Dittert, Scientific Director at the IAPN, in discussion with colleagues. (Picture: Pfeiffer)
Anyone involved in researching plant nutrition and informing people about the subject will also want to know the source of the minerals used and find out about the journey they take on the way to becoming fertilizer products. So the IAPN was very pleased to accept K+S KALI GmbH's invitation to Merkers. As a sponsor of the IAPN, K+S was able to strengthen this successful partnership and provide practical insights into the world of industrial crude salt extraction and processing by bringing the team over.
The IAPN team spent around three hours deep underground, learning about the history of potassium- and magnesium-based fertilizer manufacturing. An experienced miner took them on a fascinating journey through time, explaining the history of potassium extraction, the developments in technology, and the industry's economic significance to the Werra region. He also described how the crude salt deposits worked by K+S KALI GmbH are characterized by their additional content of magnesium and sulfur, which end up in the company's specialist fertilizers. These products are used on a large number of crops that in addition to needing potassium also require these two extra minerals – particularly potatoes, but also rapeseed and palm oil.
The IAPN team after their trip underground, in front of Merkers Adventure Mines famous landmark. (Picture: Pfeiffer)
Dr. Heike Thiel from K+S's Research & Advisory department described the connection between the extraction of potassium- and magnesium-containing crude salt and its processing into fertilizer, and K+S KALI GmbH's specialist knowledge and its advice service. She stressed the importance of a rapid transfer of knowledge from research into the real world, in order to provide farmers with well-founded knowledge that assists them in making optimal use of fertilizers. The IAPN's research work and the results generated are also very important to this, said Dr. Heike Thiel.
Prof. Klaus Dittert gave thanks on behalf of the IAPN team: "This journey through time, back to the formation of these potassium deposits over 230 million years ago, on to their discovery nearly 160 years ago, the initial mining of these important minerals and the modern extraction of potassium and magnesium has made a great impression on all of us."