In a K+S KALI GmbH online seminar held on 22 January 2019, Professor Klaus Dittert provided insight into the IAPN's research on water use efficiency.
In many countries of the world, increasing and persistent droughts create major challenges to farming. The issue is no longer abstract, even in Germany: For 10 consecutive months in 2018, the warmest and sunniest year ever recorded, precipitation was much less than normal. This resulted in massive harvest shortfalls.

One of the IAPN's primary research foci is the question as to how optimization of the plant's nutrient supply can raise its water use efficiency, and ensure satisfactory yields even when water is scarce. In a webinar held on 22 January 2019 on KALI Akademie, the knowledge platform of K+S KALI GmbH dedicated to plant nutrition, Prof. Dr. Klaus Dittert provided insight into the IAPN's research. The online seminar was titled "Drought stress: Efficient water usage for enhancing crop yields – a look at research".
Potassium and magnesium: important for drought-stress tolerance and water use efficiency
After a brief report on the precipitation levels and soil humidity in Germany in 2018 and a subsequent outline of worldwide regions threatened by drought, Professor Dittert introduced the results of various fertilization trials. He then explained relevant, topical scientific IAPN findings.

The institute's research results show that potassium (K) and magnesium (Mg) are extremely important for drought stress tolerance and water use efficiency, even though the physiological functions are not immediately discernible. A study by Tavakol et al. (2018) showed that transpiration and therefore water usage increased with potassium concentration in barley plants. A study by Jákli et al. (2017) focusing on wheat however showed that on the other hand the plants' photosynthesis performance was even more stimulated, so that finally as a result of the enhanced potassium supply the water use efficiency was markedly improved. Other studies showed that assimilate transport, which is extremely important for example for root growth, also depends on optimum potassium supply, as this mineral is essential for phloem assimilate loading. In addition to K, Mg is also vital for relocating carbohydrates to the roots, thereby ensuring growth and excellent root penetration of soils.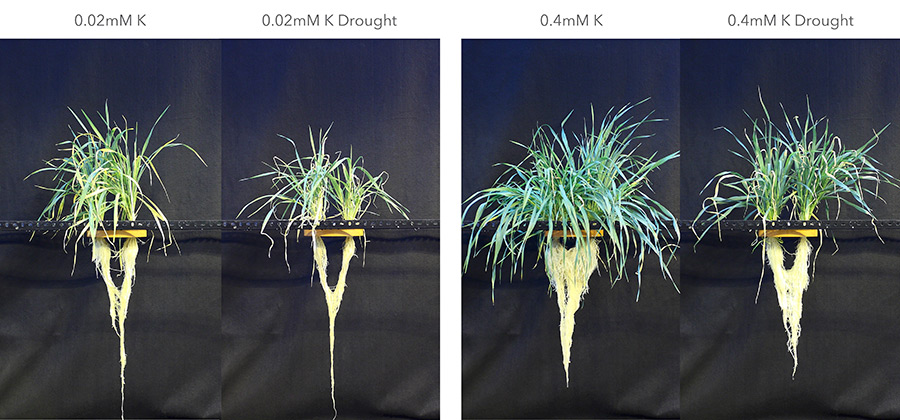 Spring barley treated with low potassium (0.02 mM K) and adequate K supply (0.4 mM K) under well-watered and drought conditions. (Photos: Tavakol, IAPN)
Concluding his webinar presentation, Prof. Dittert briefly explained the drone-based multispectral technology used at the IAPN, and he introduced the project IMPAC3 as an example of how new cropping methods are also tested as a possibility of enhancing water use efficiency. IAPN staff member Annika Lingner is a participant of the IMPAC3 project.

Should the webinar be repeated, we'll keep you posted on the IAPN website. For comprehensive information on the webinar program of the KALI Akademie and for newsletter registration please check webinare.kali-akademie.de.
More IAPN research results regarding water use efficiency: