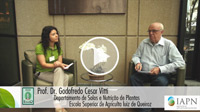 Regions with widespread magnesium weaknesses in soils have been identified in Brazil. On the verge of the 2nd International Symposium on Magnesium in São Paulo, Brazil, early November 2014, IAPN talked to Brazilian scientists about the current situation of magnesium nutrition in crop plants.
On behalf of IAPN Dr. Daphne Jost, K+S KALI GmbH, Kassel, talked to two scientists about the special situation of the Brazilian agriculture.
Read the whole article on Knowledge transfer - Insights into Brazilian agriculture.